META - Presenting Sponsor You Tube Greeting for our Golfers
Please click on the link below containing META Employment Services Executive Director's message for our wonderful golfers.
37th Mayors' Challenge Golf Tournament
Our 37th Mayors' Challenge Golf Tournament was scheduled to be held on Tuesday, June 1, 2021 at Trillium Wood Golf Club. As the current situation within COVID-19 changes, we must make changes accordingly. Therefore, the upcoming 37th Mayors' Challenge Golf Tournament has been rescheduled to Tuesday, June 22nd, 2021. The decision to change the Tournament date is in accordance with Ontario's provincial lockdowns pertaining to COVID-19, and efforts to stop the spread. If you would like a registration form or more information sent to you, please contact Barb Golden at bgolden@communitylivingbelleville.org or Darlene Dale at ddale@communitylivingbelleville.org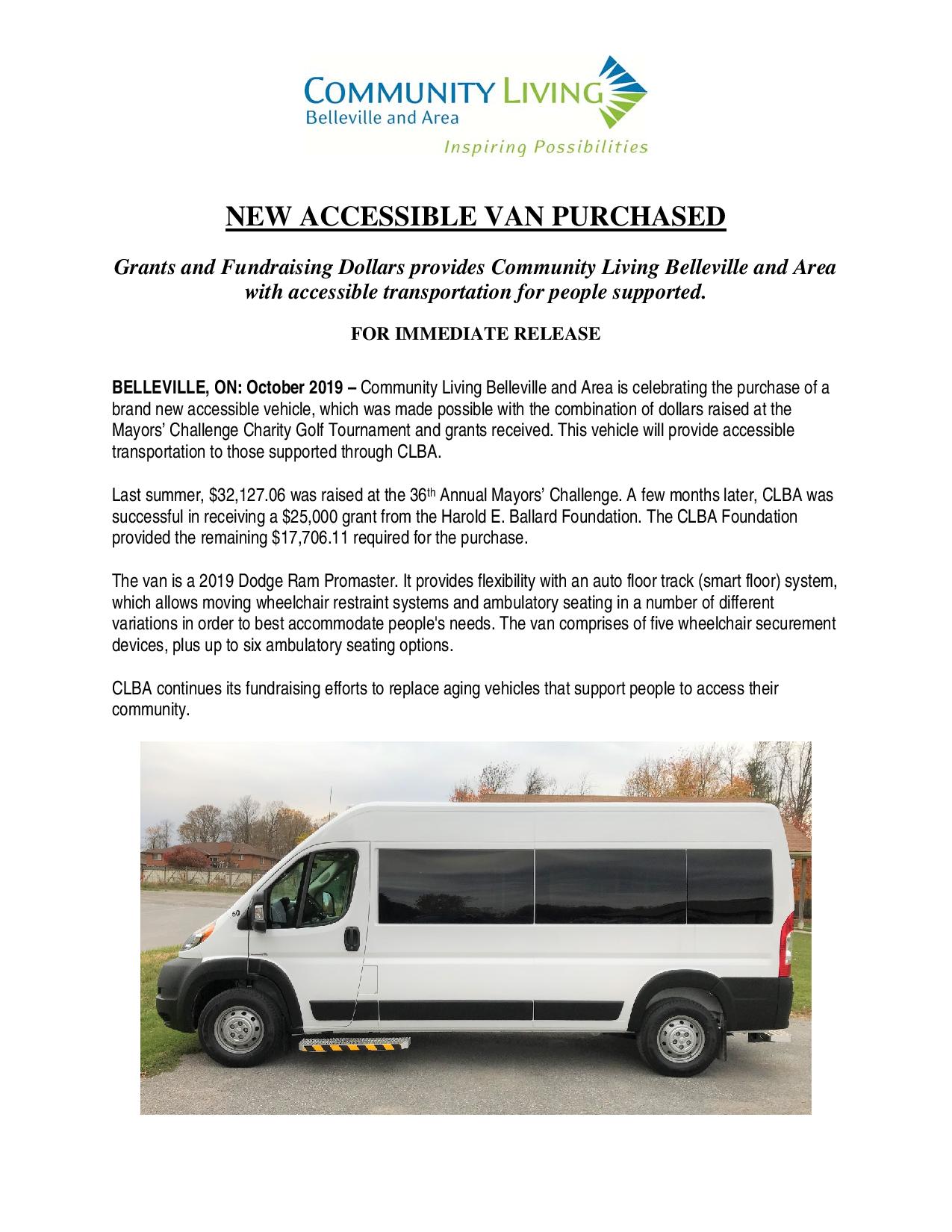 36th Annual Mayors' Challenge
Surpassed last year's record by over $12K!
Community Living Belleville and Area exceeded its fundraising goal – AGAIN – and this time by an additional $12,393.08! The 2019 Mayors' Challenge Charity Golf Tournament raised $32,127.06!
The success of this fundraiser reflects on the success of the entire community: coming together for inclusion, belonging, respect, and independence. This year, for the first time ever, every available sponsorship package was funded. The tournament sold out despite the forecasted rain, and a wait list was formed. Volunteers were plentiful. Many people supported shared part in the day.
CLBA is so thankful for all of its long-time supporters, as well as many new sponsor additions, which made the 2019 tournament such an incredible success. For the first time ever, the Mayors' Challenge secured a Presenting Sponsor – Meta Employment Services – and was able to secure two Title Sponsors – Boyer Auto Group & Elexicon Energy. Other major sponsors included Lunch Sponsor: Enbridge; Dinner Sponsors: Peter Smith Chevrolet Cadillac Ltd., Wilkinson & Company LLP, & Marc's No Frills; and Raffle Sponsors: Dave Deyman, & Canadian Tire Belleville.
Despite the rain, the sold-out tournament was a huge success. The end result was a three-way tie among the mayors/warden's teams but in the end Mayor Mitch Panciuk and The City of Belleville walked away with the Mayors' Challenge trophy.
Also new this year: Presenting Sponsor Meta Employment Services formally acknowledged the success of someone with intellectual disabilities who overcame barriers to secure successful employment.
"Our partnership with Community Living Belleville and Area is an extremely valuable resource for those living with an intellectual disability; as together, we are able to provide wraparound supports for the person, rather than just siloed support," Sandra Leslie, Meta Employment Services' Executive Director said during the presentation.
"Together, both agencies envision a community that supports competitive and diverse employment for all people; a community where everyone belongs, and all people are valued and respected as participating and contributing members," Leslie added.
The more than $32,000 raised at the 2019 Mayors' Challenge will go a long way toward the purchase of a replacement vehicle to provide better access and opportunity to those receiving supports through CLBA. This vehicle replaces a 14-year-old conversion van that had over 378,000 kms on it and was recently taken off the road due to transmission issues. CLBA owns five more vehicles over a decade old, which provide transportation for people supported, and will need to be replaced in the near future.
"Though CLBA is funded through the Ministry of Children, Community and Social Services, the agency does not receive funding to meet the transportation needs of the more than 150 children, youth and adults who receive supports through CLBA," said Christine Semark, CLBA Executive Director. "One accessible van costs $80,000. CLBA relies entirely on fundraising and grant writing to fill these needs."
-30-
--
The Mayors' Challenge Golf Tournament
The 36th Annual Mayors' Challenge Charity Golf Tournament took place on June 4, at Trillium Wood Golf Club. The City of Belleville took home the trophy at the sold-out event! Stay tunes for details regarding the 37th Annual Mayors' Challenge next spring!
Thank you to all our sponsors of the 36th Annual Mayors' Challenge Charity Golf Tournament!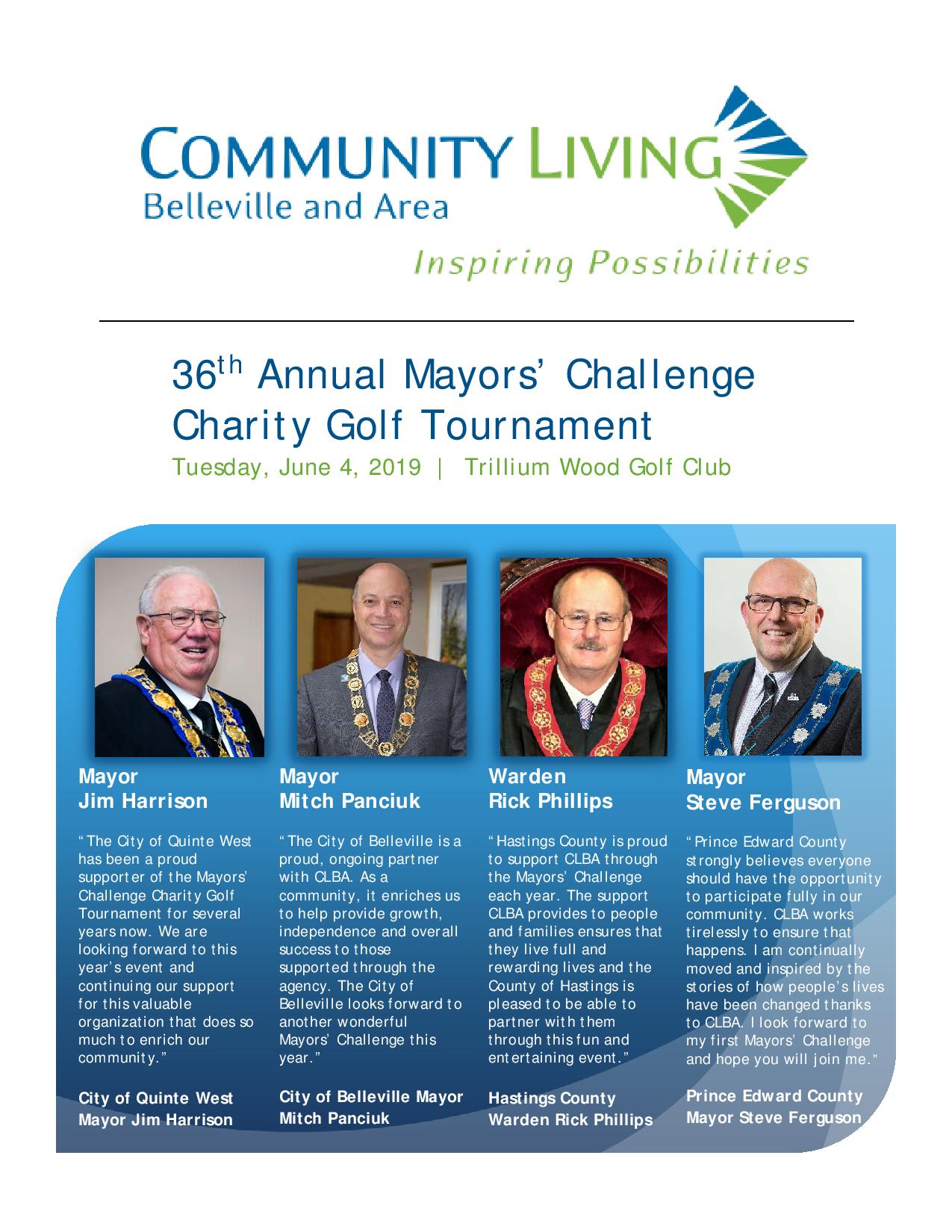 2018:
The 35th Annual Mayors' Challenge Charity Golf Tournament exceeded its fundraising expectations and raised more funds than ever before - nearly $22,000! Thank you to all of our sponsors, donors and supporters who made this happen. The funds have been used to purchase two new accessible vehicles for people supported.
The tournament was held on Tuesday, June 12, 2018 at Trillium Wood Golf Club. The trophy went home with Warden Rodney Cooney and his foursome from Hastings County!
History of the Mayors' Challenge Golf Tournament
The concept of the Mayors' Challenge originally began in 1983, when the Mayor of The City of Quinte West (formerly Trenton) challenged the Mayor of The City of Belleville to a game of golf. Each mayor selected his own foursome and golfed for a day of enjoyment and to support this charitable event. Over the years, the winner has bounced back and forth between the two municipalities. There has always been a great spirit of camaraderie and it has been a fun-filled day for all. Evidence of this is the continued support of the mayors, as well as the many volunteers, golfers, sponsors and prize donors who continue to be involved each year.
In 2004, a new twist was added to the tournament when the Mayor of Prince Edward County and the Warden of Hastings County were invited to compete for the trophy. All four municipalities agreed to support the tournament for a day of friendly competition and camaraderie and have continued to do so to this day. CLBA is pleased to have confirmed the participation of all four municipalities for its 36th Annual Mayors' Challenge on June 4.
Since its inception, this tournament has resulted in substantial donations for the direct benefit of the people supported by Community Living Belleville and Area. The proceeds help to make it possible for the people supported to be active and significant members of their community. Supports are individually tailored to meet each person's unique needs and personal goals.